Research vessel for marine exploration
National Institute of Oceanography and Applied Geophysics – OGS
The N / R Laura Bassi is today the only Italian ship capable of operating in polar seas.
It is a multipurpose polar 5 class research vessel, which combines a relevant scientific research capacity with a considerable potential for the transport of materials and people.
Named after the Italian scientist who in 1700 became the first woman in the world to obtain a university chair, Laura Bassi, the ship measures 80 meters in length with a tonnage of 4028 tons. Its staffing capacity is equal to 72 people, including 50 places for scientific personnel.
The ship is owned by the National Institute of Oceanography and Experimental Geophysics (OGS) and is intended to operate both in Antarctica and in the Arctic. Its operational and scientific management is ensured by a Consortium which includes, in addition to OGS, also ENEA and CNR.
Laura Bassi (1711-1788)
Italian physicist and academic.
Doctoral degree in Philosophy from the University of Bologna in May 1732.
The first woman in the world to be appointed a university chair in a scientific field of studies.
Owner: OGS
Flag: Italy
Operating area: Antarctica & Arctic 1995
Year of built: 1995
Place of built: Kværner Kleven, Leirvik AS Norway
Polar Class: ICE-05, PC5
Lenght(LOA): 80.0 m
Breadth (mld.): 17.0 m
Draft: 6.15 m
Deadweight (DWT): 1.800 tons
GRT: 4.028 tons
Accomodation capacity:
25 crews
45 scientists/technicians
Cruise Speed: 12 knot (14 knot max)
Max Endurance: 60 days
IMO: 9114256
Cargo hold: 3000 m3 (under deck)
+ 4 TEU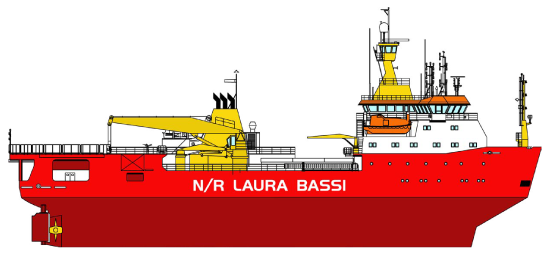 Length (LOA): 80 m / 262 ft
Breadth mld: 17 m / 56 ft
Gross Tonnage: 4.028 tons
Cargo hold: 3.000 m3 / 4 TEU
Max endurance: 60 days
Main engines power: 2×2650 kW
Cruising speed: 12 Kn
Fuel: Marine Gas Oil (MGO)
Kerosene (Jet A-1)
in segregated tanks
Accomodation capacity:
25 crew
45 scientists/technicians
Public areas:
Hospital
Messroom and laudry
Leisure areas
Gym and sauna
Changing rooms